SERVICES – HOTEL INDUSTRY EQUIPMENT
We carry out all sort of electrical installations and equipment in coffee shops, restaurants, butchers', bakeries, groceries in general, supermarkets, schools, residences, etc.
In general, we have a wide range of modular cold rooms and equipment such as:
Wall displays for dairy, fruits and vegetables, charcuterie, etc.
Display cabinets for charcuterie, meat, cheese, ready meals, pre-cooked meals, etc., both for free service and for traditional care for cold cuts
Middle and joined gondolas for freezers, open or with covers
Wall displays for frozen food with glass doors
Big capacity chest freezers for frozen food
Stainless steel showcases and displays for fish
Scale ice makers
Stainless steel working tables for dispatch areas
Stainless steel furniture for processing rooms
Swing doors for working or service rooms in supermarkets
Meat mincers, cutting machines, packing machines, etc.
We also have specific equipment for each kind of business:
BACKERIES & PATISSERIES
CUSTOMISED AND STANDARD COLD STORAGE FITTINGS
CONTROLLED FERMENTATION CHAMBERS
BLAST CHILLERS
COLD ROOMS
FREEZING CABINETS
DISPLAY CABINETS
CHOCOLATE JARS
OVENS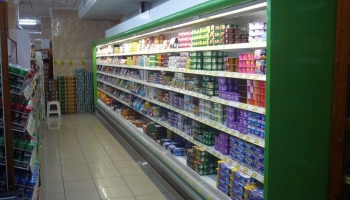 BUTCHERS & CHARCUTERIES
SLICERS
SAWS
MINCERS
COLD ROOMS
VACUUM MACHINES
BALANCES
STAINLESS STEEL FURNITURE
FISHMONGERS
REFRIGERATED ISLANDS
COLD ROOMS
CUSTOMISED COUNTERTOP
STAINLESS STEEL FURNITURE
BALANCES
ICE MAKERS
SUPERMARKETS
COLD WALL DISPLAYS FOR DAIRY, MEAT, FRUITS, ETC
DISPLAY CABINETS
COLD ROOMS
REFRIGERATED ISLANDS
HOTEL INDUSTRY (RESTAURANTS, COFFEE SHOPS & HOTELS)
CUSTOMISED AND STANDARD COLD STORAGE ROOMS
COFFEE FURNITURE AND SHELVES
SHOWCASES WITH REFRIGERATED COVERS
ELECTRIC AND GAS OVENS
COLD AND HOT TABLES
BOTTLE RACKS, DRINK AND WINE DISPLAYS
DISHWASHERS
TUNNEL WASHERS
INDUSTRIAL KITCHENS
EXHAUST HOODS
FRYERS
BRAISING PANS
If you are thinking about starting a new business project in the restaurant or hotel industry field, o if you are planning to open a supermarket, a butcher's, a fishmonger or any other business or facility for which you believe we may be helpful, please do not hesitate contacting us.