SERVICES – INDUSTRIAL COOLING
We are an INDUSTRIAL COOLING installation/maintenance company, enrolled in the register of companies of the Valencia regional government. We carry out all sort of cooling installations, repairs and maintenance, we always use the latest technology and the newest products on the market.
If you are thinking about changing or improving your cooling installation or if you are planning a new installation, contact us and we will customize your needs, with the major improvements in control and power saving.
We work with hermetic, semi-hermetic, open, piston, scroll, rotating and screw compressors. All of them of top brands; COPELAND, BITZER, DORIN, GELFRED, FRASCOLD, BOCK, MANEUROP, etc.
We work with top brands evaporators and for all sort of applications, standard or customised, with cupper battery or built in stainless Steel, in Freon, glycol or ammonia mode. .
- COMMERCIAL REFRIGERATORS
This is how we call small and medium sized cooling chambers the volume of which varies between 0 and 100 m3. It is a closed chamber with sandwich type refrigerated panels, in the inside of which are kept products cooled by a proper cooling equipment. It can store products at temperatures between +0ºC and +8ºC for storage and between 0º and -30º for freezing, depending on the product inside, fruit, meat, fish, milk products, flowers, etc. This kind of chamber is used in the retail business such as: self-services, small shops, mini markets, butchers', charcuteries, bread boutiques, patisseries, florists', ice-cream shops, etc.
- INDUSTRIAL REFRIGERATORS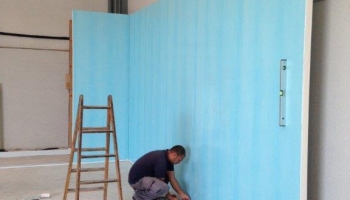 These places can be preservation and freezing chambers, workshops, food handling rooms, etc., which can even be entire industrial warehouses used to store, elaborate, and handle products, such as charcuterie plants, meat plants, logistic warehouses, ice-cream factories, slaughterhouses, bakeries, etc.
We carry out any kind of cold storage, white room, workshop, etc., for your company or business, of all sizes, following the existing regulations, from the design and the calculation of motors up to the fully completed installation and operation. We work with the top brands and we use the latest technologies on the market; inverter compressors, central cooling units, teleprocessing, etc.